Pilot exists to enable people everywhere to discover and share memorable experiences together.

The future of social technology shouldn't be a metaversal black hole of never-ending, creepily targeted, ever-present ads. We believe that social technologies should exist to enable real life experiences, not impersonate them.
We're building a Social Trip Planner to help you discover, plan, book, and share experiences with friends, not followers, in the real world.
Together we'll lead a world where people feel fulfilled by their connections and experiences.
Pilot aims to be the hub of global travel experience, starting with our social trip planner, to help you make the most of every trip.  Discover, plan, and share trips with friends your way.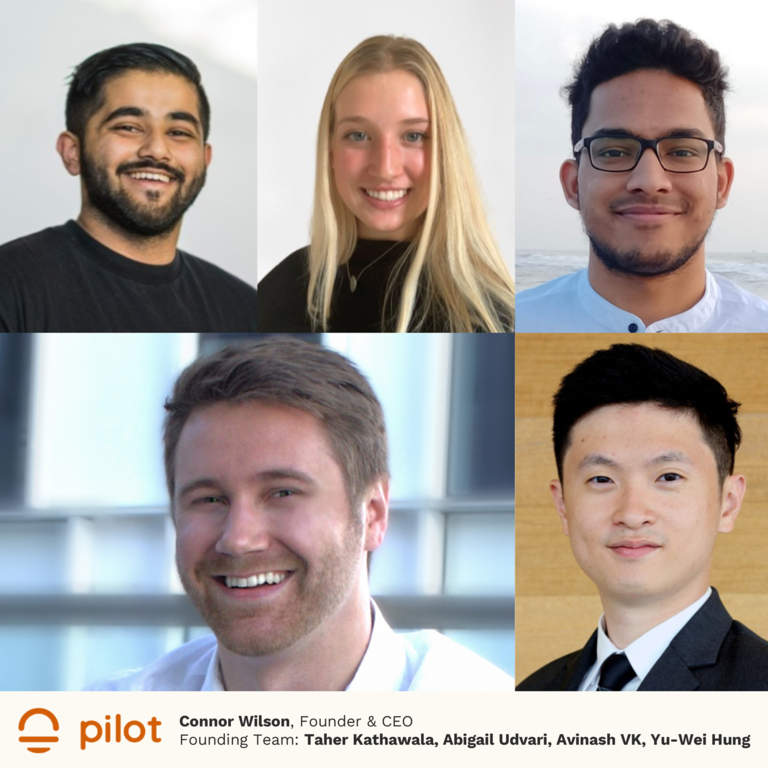 The idea for Pilot was born in 2019 from founder Connor Wilson while on an ATV overlooking the Aegean Sea from a mountaintop in Greece during a backpacking trip through Europe. "What if social technology was used to enable real life experiences, not impersonate them?"

As an unincorporated startup named HappyHour, the first idea to address the problem of social connection is with a Personal Relationship Management tool. This is quickly ruled out as too inorganic and not social.

As the COVID pandemic begins and grows the need for connections increase. Travel, an inherently social activity, will be the foundation. A Social Trip Planner, powered by AI and fuelled by social recommendations is chosen as the optimal solution - a platform for discovery, planning, and sharing of social experiences, and the long term roadmap and strategy is defined. 
HappyHour Services Inc. is incorporated on May 6th, 2020.  Founding Team members
Taher Kathawala
and
Abigail Udvari
join HappyHour, eventually becoming Product Team leads for Pilot after also doing brief stints working at Tesla (Taher) and Snaptravel (Abi).

The initial engineering team is hired. Founding Team Member Avinash VK, who had been coding since he was 12 years old, joins the team beginning development on the Alpha version of the product.

HappyHour rebrands, changing its name to Pilot to better inspire and empower travelers to make the most of every trip. Pilotplans.com is launched.




In February '21 Pilot's extremely buggy but technically functional private alpha is released. A month later, Connor's other startup is acquired in an 8-figure exit after being bootstrapped for 3 years. Yu-Wei Hung joins Pilot as a marketing intern and Founding Team Member, later becoming Pilot's first full-time marketing hire and Growth Team lead.

Pilot's monthly organic website grew traffic from a few hundred to a few hundred thousand within a year. Pilot slowly opens its beta to the public at the beginning of 2022. By summer, 5,000 users now use Pilot to plan their trips and 55% of them say they'd be "very disappointed" if they could no longer use the platform; exceeding the 40% that is typically considered 'product-market-fit.
Pilot joins the "Creative Destruction Lab" a startup accelerator, a shark tank / survivor type hybrid program. Pilot is one of only a small handful of companies that "graduates" from the Creative Destruction Lab in 2023, making them one of the most promising companies in Canada this year. The "Mentor of the Year" at the Creative Destruction Lab invests in Pilot.

Pilot has now grown to 14 employees enabling people everywhere to discover and share memorable experiences together. Currently, over 20,000 members now use Pilot to plan their trips.